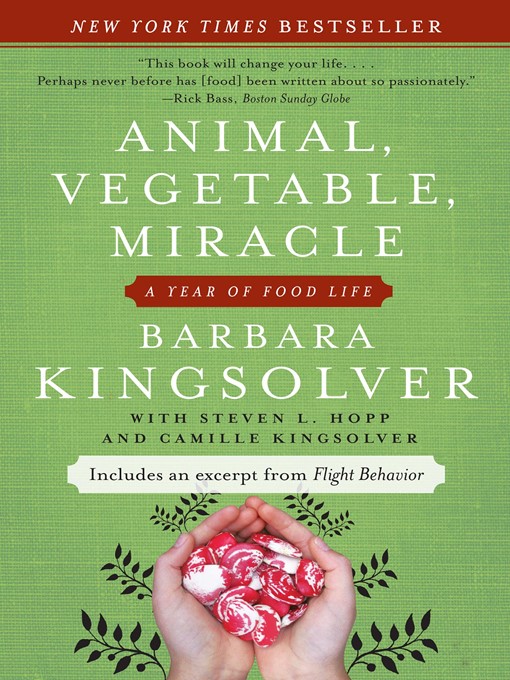 The Basics:
Animal, Vegetable, Miracle: A Year of Food Life

, Barbara Kingsolver
with Steven L. Hopp and Camille Kingsolver, 2007, 370 pages, hardcover
How I found it:
This book got a bit of buzz this summer around the same time that
The 100-Mile Diet
came out. I decided to read Kingsolver's book as well since it also sounded interesting.
What's it about?:
Kingsolver is an acclaimed novelist. She was living in Arizona with her husband and two girls when she decided that they should move to the family farm in Virginia and attempt to eat off the land as much as possible. The book chronicles their first year on the farm, including their efforts to grow fruits and vegetables, raise poultry, and make their own cheese and sausage. Kingsolver and her family were experienced gardeners before they began their experiment, and overall, it was a success. However, the book is more about a family rediscovering what it is like to live in a close-knit community and cooking together. The book also contains interludes from Kingsolver's husband, Steven Hopp, about the politics of farming and food, and some brief sections from her college-age daughter Camille on nutrition, cooking techniques and recipes.
Did I like it?:
I didn't enjoy this book as much as I would have liked. Overall, I found that it was a cross between
The 100-Mile Diet
and
The Omnivore's Dilemma
, both of which I like more. However, it was fairly enjoyable and I felt newly inspired to grow my own food, or at least support the local farmers market. I even took Kingsolver's advice about how to make your own cheese - I checked out a book on home cheesemaking from the library and made some myself! I did find that the book was a bit preachy at times and was more about returning to a pastoral, small farming community way of life than it was about environmentalism. Not my favourite, but still excellent reading for those at all interested in food politics.
Will you like it?:
Kingsolver writes well and doesn't idealize farm life - she tells it like it is, and is clear that despite the hard work, she loves her life on the farm. For pure reading enjoyment, I would probably recommend
The 100-Mile Diet
over this book, but for practical tips on how to really eat local,
Animal, Vegetable, Miracle
is probably better.
But don't take my word for it:
The usual
publisher-sanctioned reviews
and
reader reviews
from Amazon, a review from the
International Herald Tribune
, one from
Treehugger
, an environmentalist website, another from
Heavy Petal
, a gardening blog, and the
author's website
.