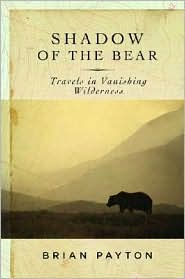 The Basics:
Shadow of the Bear: Travels in Vanishing Wilderness

, Brian Payton
, 2006, 304 pages, paperback
How I found it:
I read an excellent article in the
winter 2007 issue of Explore magazine
by J.B. MacKinnon (c0-author of
The 100-Mile Diet
). The article, entitled "To Kill a Bear" mentioned a book by MacKinnon's friend Brian Payton, and it sounded fascinating so I picked it up.
What's it about?:
Payton travels around the globe to visit the habitats of the world's eight remaining bear species. He explores the relationship between the bears and the people they live near, the cultural importance of the bears to those people, and the struggles facing each bear species. The book is part travel writing, part investigative journalism, and part bear biology and behaviour manual.
Did I like it?:
I really loved this book. I learned a lot - for instance, I had no idea that there were bears in South America (the spectacled bear), India (sloth bears), and South East Asia (sun bears). I also really enjoyed the way Payton presented the book: it was a personal journey for him to learn about these bears and their threatened existence. However, Payton is often self-critical of his opinions and quick to realize that there are no easy solutions. I couldn't put it down, and in some ways wished it was longer.
Will you like it?:
If you are at all a fan of non-fiction, I think this is a must-read. Payton writes well and is engaging. The book is divided into neat chapters - one for each bear species, making the book easy to read in chunks when you have time. But you'll probably want to read it all at once!
But don't take my word for it:
The usual
major media blurbs
from Amazon, a review from
Green Living Online
, one from the Winnipeg Free Press on the
Bear Matters BC
website, another on Bear Matters BC, this one from the
Vancouver Sun
, and the
author's website
.